Are you excited to read chat stories and chat fiction on your phone? Have you heard about chat stories app? Well, chat fiction apps are handy for you now. 
Text message story apps are some of the latest offerings and it has cropped up by dozens in the last few years. These digital book apps deliver the content in a text message format to readers and are wildly popular with Gen Z and Millenials.
Grab the most trendy chat stories app here.
1. Cliffhanger – Chat Stories (iOS / Android)
This foremost chat fiction app is making people addicted to where they snoop on thrilling conversations that unfolds before the reader's eyes. It keeps the readers' hearts racing with new stories on a weekly basis.
With Cliffhanger, the audience becomes the part of the story. This application is well known for the mystery, thriller and horror genres providing choice to readers for unfolding the fiction. Additionally, it provides options like pay to use for changing videos and images that reveal the crucial clues.
Whether it's five minutes or five hours, readers ought to love its stories and they will be on the edge of their seat with twists they might have never seen coming.
2. Tap by Wattpad (iOS / Android)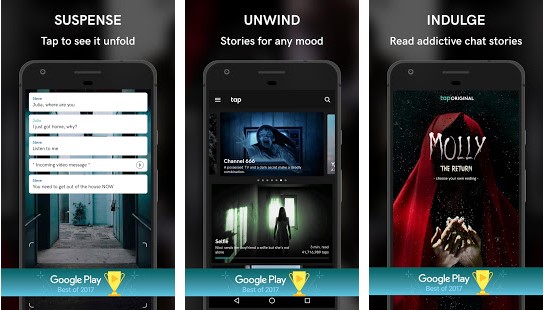 This app offers some additional features beyond text only chat stories, it has sounds, videos, images and also alternate endings. Readers can explore their suit according to mood and interest.
Tap Originals are released every week on this exclusive chat fiction application and always provide something new even if the audience uses other chat stories platforms.
Tap by Wattpad also allows people to create their own chat fictions, post on the and build followers too. Here, readers can grasp the content in more than 10 languages. 
Here, people will be hooked by the app's interactive design as this is considered as the home for diverse creators of stories. It is hailed as a secure and inclusive community for users that included readers and narrative fiction writers across the globe. 
Tap tries to create a future where all interactive stories and games belong along with the increasing scope of readers and writers.
3. Yarn – Chat Fiction (iOS / Android)
Chat stories leave no room for in depth explanations as it uplifts the standard of industry as far as popular content writing is concerned.
With Yarn, spectators can snoop through people's interaction without feeling guilty and can enter the world of horror and suspense stories.
It provides a euphoric feeling as if the audience are watching someone else's text messages in the form of short text message conversation. Yarn lets the users tap through photos on Instagram, hysterical group chat, suspense mysteries or hypothetical interaction between two or more favourite celebs.
This application has penetrated the teen culture with videos as well and it adds new stories frequently. Viewers can even watch different shows in a short story format.
4. Hooked (iOS/ Android)

This chat fiction app has started the chat stories trend. It  makes people addicted by delivering the content in the bit sizes text messages.
Hooked grabs the attention of spectators into each story by displaying the dialogues of the characters. Readers won't get any clue of the back stories about the characters beforehand.
However, hooked chat stories are based on the genre and it also allows self chosen story selection to its users by eliminating the waiting period. It makes the reading spooky, fun and snappy.
5. Lure – Interactive Chat Stories (iOS)
As the name suggests, this chat message store app  provides new titles to explore everyday to their readers. It features a bit sized tale in the text message conversation format and provides a feel as if we are watching others' messenger texts.
Audiences can cease creepy horror stories and suspense and thrilling romantic conversations. It unfolds the content in an engaging and gripping way that leaves the readers addicted. It reveals the next message by just one tap and unfolds the new episodes. 
It has bit sized content like Snapchat which is used to deliver fictions that makes people addictive, and eerie.
Lure allows readers to squeeze a quick read content or a long story to enjoy the fancy experience of varied fictions of history and centuries to its finest. It adds fun to the recipe of the app that makes reading enjoyable.
6. ReadIt – Chat Stories (iOS / Android)
Take a deep dive into the world of romance, thriller, horror and mystery with ReadIt. Feel the character of this chat fiction app with its bit sized text message stories. 
It gives choice to readers to read stories as per their mood that includes romance, horror, gossip , mystery and many more. ReadIt unfolds the mysteries and brings stories to life.
This chat message story app provides unlimited access to various content and full story catalog.
7. Eavesdrop – Chat Stories (iOS)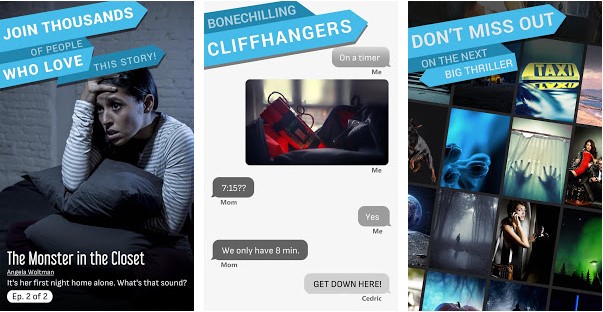 Eavesdrop, the next chat stories addiction application breaks down the stories into episodes. It features thousands of episodes including hundreds of stories so any user will never lack stuff to read.
Well, this chat fiction app has a rating feature too where spectators have to provide feedback regarding stories and they can get suggestions and advice for what to enjoy next.
The main element that makes this app different is it features real life internet live streamers.
8. Scary Chat Stories – Addicted (iOS / Android)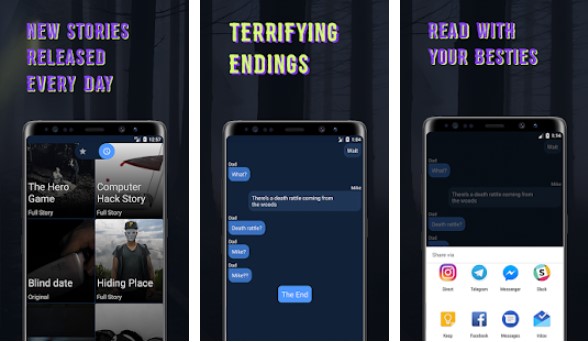 This free chat stories application is like the edge of the seat scary stories. It has built in sharing and storage tools that lets the readers insert links of the content or stories to various platforms like Google Keep and Messenger. 
It is truly text based content that excludes videos and pictures.
9. LifeLine (iOS / Android)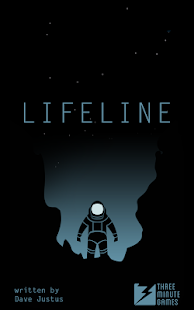 This app is a collection of sci- fi horror stories that provides unique experiences by modern devices. It is a tale of survival and perseverance with ample number of possible outcomes and how they win against all odds.
10. Creepypasta (iOS / Android)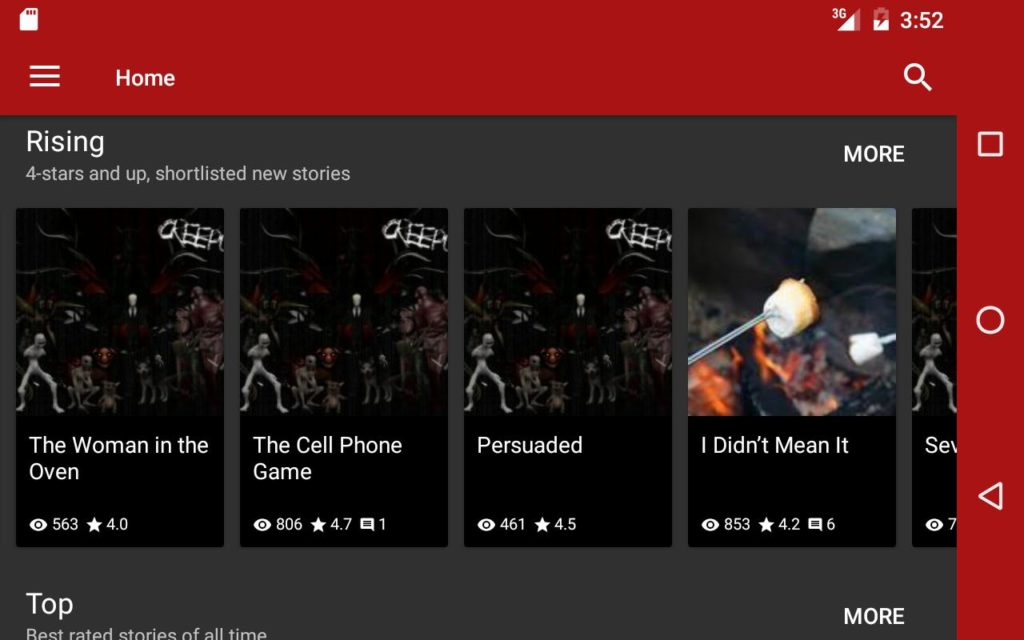 It is one of the best chat fiction apps as it has updated stories every few hours and readers can enjoy new content from its community. Its built in notification system allows readers to be in touch with every updated fiction.
Creepypasta lets users interact on the comment page and can discuss their favourite story. It has a variety of features to offer like rising section, latest and new section, top, popular and trending section and alike more.
So what are you waiting for when you have such snappy chat stories app handy? Enjoy your reading with these featured applications and stay scary and suspicious just as stories you read!